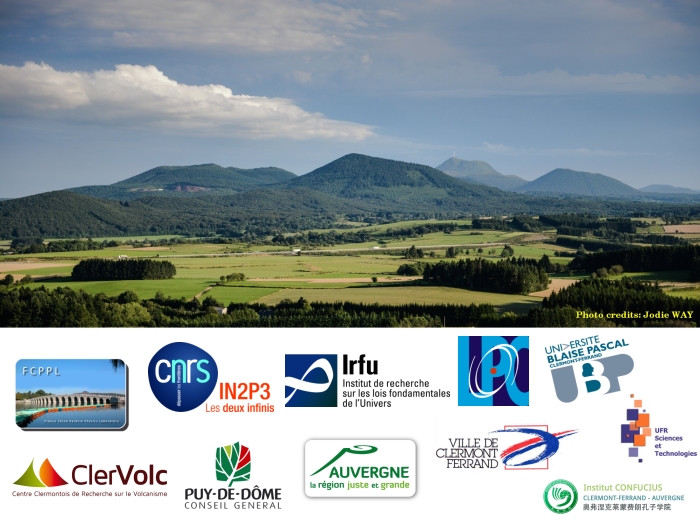 Photo: Jodie WAY
---
Dans le cadre des célébrations du cinquantenaire de l'établissement des relations diplomatiques ente la République Française et la République Populaire de Chine, avec le soutien du service scientifique et technique de l'Ambassade de France.
---
The Laboratoire de Physique Corpusculaire (LPC) of Clermont-Ferrand is pleased to invite you to the seventh edition of the
FCPPL
workshop in 2014. The workshop will take place from
April, Tuesday 8th (at around 8:30 am) to April, Thursday 10th (evening)
at the Blaise Pascal University which hosts the LPC. The LPC is one of the twenty CNRS/IN2P3 institutes. Its research themes cover particle physics, with groups involved in three LHC experiments (ALICE, ATLAS and LHCb), hadronic matter, theory, astroparticles, cosmology and applied physics. The institute hosts a Grid Tier-II.
Clermont-Ferrand is in the heart of Auvergne region, nearby the Europe's largest regional nature park: the Auvergne Volcanoes Regional Nature Park. It is a volcanic area stretching out for more than 30 km which is an actual candidate to the UNESCO world heritage.
The workshop scientific program will be available in the beginning of 2014. Three social events are foreseen: a welcome cocktail at the City Hall of Clermont-Ferrand on Tuesday evening, the workshop dinner on Wednesday evening and an excursion, in parallel with the meeting of the Steering Committee, on Thursday afternoon. We foresee the end of the excursion at around 7 pm and the end of the meeting of the Steering Committee at around 6 pm. Lunches will be taken in a cafeteria on the University campus.
Lunches, dinners and social events will be supported by the workshop organization for all registered participants.
The registration fee for accompanying persons is 145 Euros (lunches, dinners and excursion).
Most of the participants will be accommodated in the Balladins Centre hotel where we have pre-reserved a number of rooms and where a dinner will be organized on Monday 7th (see the Accommodation menu on this web page).
Accommodation fee will be covered by the workshop organization for participants from Chinese institutes.
Anyone wishing to attend the workshop is kindly invited to proceed with the registration via this web page
before March 9th, 2014.
Please note that for logistic reasons the number of participants has to be limited to 110.
You can find on this web page information on travel, accommodation and social events, a map of Clermont-Ferrand with the locations of interest and useful links to organize your trip as well as the workshop poster. More practical details on the workshop will be made available in the
beginning of March 2014.
Looking forward to see all of you in Clermont-Ferrand in April 2014!

Steering Committee:

CAI, Xu, CCNU
CAO Zhen, IHEP
CHEN Hesheng, BEPC, co-chair
CHOMAZ Philippe, IRFU
DAVIER Michel, LAL, co-chair
GERBIER Gilles, IRFU
HERNANDEZ Fabio, CC-IN2P3 and IHEP
JIN Shan, IHEP
KAJFASZ Eric, CPPM
MARTINO Jacques, IN2P3
NAPOLY Olivier, IRFU
ROOS Lydia, LPNHE
WANG Yifang, IHEP
WANG Qing, THU
ZHAO Zhengguo, USTC
ZHU Shouhua, PKU

Scientific Committee:

BAMBADE Philip, LAL
CHEN Gang, IHEP
CHEN Hesheng, BEPC
DAVIER Michel, LAL
GAO Yuanning, THU
MARTINEAU-HUYNH Olivier, LPNHE
ROOS Lydia, LPNHE
SCHUTZ Yves, Subatech
TAO Charling, CPPM
WANG Meng, SDU

Local Organizing Committee:

BALDIT Alain, LPC
BARRET Valérie, LPC
BASTID Nicole, LPC
CROCHET Philippe, LPC, chair
DUPIEUX Pascal, LPC
FRANÇOIS Claude, LPC
GARNIER Esthere, CPPM
LI Shuang, LPC
MANSO Franck, LPC
PINTY Catherine, LPC
PORTEBOEUF-HOUSSAIS Sarah, LPC
ROSNET Philippe, LPC
VULPESCU Bogdan, LPC
ZHANG Xiaoming, LBNL