Brief history of the domain
In 1754, Claude Mérault, a King's lieutenant, "Seigneur de Gif et de Frileuse", begins the construction of a new palace to replace the old stately manor. From 1756 to 1771, Pierre Desmaisons, the King's architect

enlarged

the building

, adding

two wings

to the central body

, while the

landscape

mater

Pillet

was in charged of planning the gardens and park, both inpired from

Le Nôtre.

The interior

of the building

includes

exquisite woodwork,

mirrors

,

comfortable rooms and

elegant lounges

. In 1771, Pierre-Charles Débonnaire, Baron of Forges,
attorney

at the Grand

Council, becomes the

heir

to the

viscounties

of

Gif

and

Châteaufort

.

After his death

in 1788

, his family

remained

in the castle

during the French Revolution

.

Subsequently, the

67-acre

property

,

change

d

owners on numerous occasions

.

Edward

Noetzlin

, director

of the Bank of

Paris

and

of the Netherlands

bought it in

1912.
He

had it further enlarged

, landscaping

the grounds and

common grounds

. Upon the death of his father,
Jacques
Noetzlin

no longer wished to carry the burden of

the domain.

In 1946,

he sold

it for

12 million

francs

to the CNRS.
The State

commits not to build on the grounds, to the maintenance of the buildings, and its grounds and gardens, also engaging

to hire the

staff

previously

dedicated to serving

the family.




Today, the

CNRS

receives

its guests and

organises conferences

and other events on the castle.




Since 1991

, the park has been officially classified as a

"Refuge

for birds" by the

League for the Protection

of

Birds

.

The fauna and

flora

are also protected

.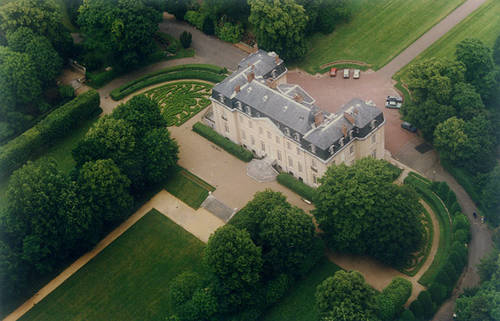 Gif-sur-Yvette and its history
The grounds of the "Château de Button" belong to the town of Gif-sur-Yvette, named after Yvette river. The town spreads over 12km2, of which 4km2 correspond to forests and parks.
The human presence on the Moulon Plateau originates in Neolithic times. Agriculture was developed, notably during the Roman era. Between the 12th and the 18th century, an important Benedictine abbey was built in Gif. In the 19th century, Gif remained very agricultural (in particular, operating mills). In 1867, Gif was linked to the path of the Sceaux train (which would later become the south branch of the RER B line).

Following the First World War, Gif went through an important demographic change. In 1930 the town adopted the name of "Gif-sur-Yvette". Just after the Second World War, Gif-sur-Yvette acquired an international scientific reputation, which has steadily increased over the years. Numerous research organizations exist in this area, such as the CNRS (Centre National de la Recherche Scientifique), the CEA (Commissariat à l'Énergie Atomique), Supélec (École Supérieure d'Électricité), the LGEP (Laboratoire de Génie Électrique de Paris, associated with Supélec) and the Institute of Plant Biotechnology. Also, Gif is home to the Centre National d'Études.