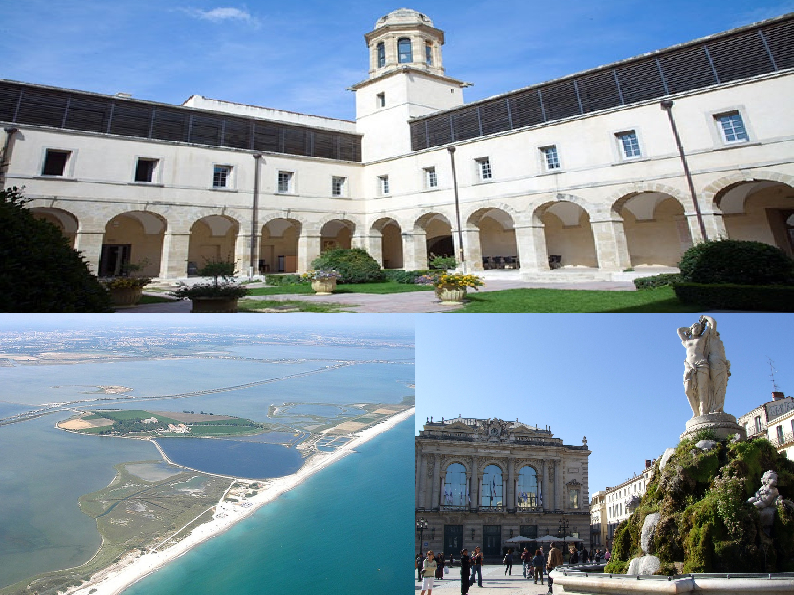 The meeting will take place at the
Montpellier 1 University (UM1)
, in the building 1 of the
Faculty of Law
, in the historic city center called "L'Ecusson", a map of which is provided
here
with
A
: meeting location and
B
: welcome party. The exact address of the venue is
11 rue de l'Ecole Mage
. The Amphitheater and the Rooms 11 and 12 are located on the first floor, and the "Salle de Réception" on the second floor. A registration desk will be located on the common hall of the 1st floor, adjacent to the meeting rooms.
Fees
amount to
100 euros
(+50 euros for the collaboration dinner) to be paid during the registration process. The registration fees cover rental of meeting rooms, coffee breaks, and a welcome coktail on Monday evening.
Registration
is now open through the azur-colloque website
here.
Hotel booking:
please note that hotels will still be packed the 1st week of September:
do not defer booking your room too long!
(Unfortunately, we cannot book blocks of rooms with Montpellier hotels). Follow the link "Accomodations" at the top left of this page for a list of hotels.
Local Organizing Committee (lat-cm-2014@listes.univ-montp2.fr)
:
Frédéric Piron, Johann Cohen-Tanugi, Eric Nuss, Johan Brégeon, Matthieu Renaud, Samuel Viscapi, Carole Prévot, Sylviane Colaiocco, Christophe Mercier, Thibaut Desgardin, Ryan Chaves (LUPM, CNRS-UM2, Montpellier)