The collaboration meeting will take place at Villages Vacances VVF Lège Cap-Ferret in Claouey at the beginning of Cap Ferret peninsula, about 50 km on the west of Bordeaux along the Atlantic coast.

VVF Lège Cap-Ferret is providing conference room, coffee breaks and accomodation (2-bedrooms cottage) with full board pension (breakfast, lunch and dinner), all in an eco-friendly environnement qualified by the european Ecolabel FR/051/027.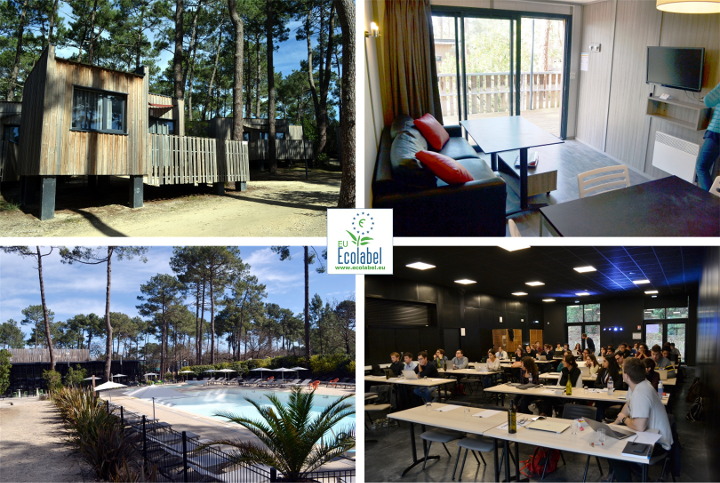 Shuttle bus
Shuttle bus will be organised from Bordeaux to Claouley on Monday 14th October evening and Tuesday 15th evening, stopping at the train station Gare Saint Jean and at the airport Bordeaux-Merignac. The return shuttle bus will be schedule after the collaboration meeting on Friday noon after distribution of lunch boxes.
Inbound shuttle bus on Monday 14th and Tuesday 15th evenings
- 18h00 : departure from Saint Jean train station, in front of Hall3 / Belcier
- 18h30 : departure from Merignac airport, in front of Hall B
- 19h30 : arrival at conference venue
Outbound shuttle bus on Friday 18th noon
- 12h00 : departure from Calouey (with a lunch box)
- 13h00 : arrival at Merignac airport
- 13h30 : arrival at Saint Jean train station
If you are considering to travel with shuttle bus, please arrange your arrival and departure to/from Bordeaux according to these schedules, eventually with a bit of margins.
Travel with public transportation
TransGironde is provinding a regular public bus line from Bordeaux toward Lège Cap-Ferret, Line 601, starting from Bordeaux train station (Gare Saint Jean) or Quinconces place (Quinconces) and having stops close to Merginac airport (Merignac Soleil) and close to the conference venue (Claouley)
- From Bordeaux train station : departure in front of the main wall
- From Merignac airport : the bus is getting closed to the airport but not in front. One of the most convenient place to catch it would be Chemin Long or Mérignac Soleil bus stop, which can be reach with the bus Line 1 from the airport (direction)
- To Claouley : from the bus stop, it will take about 10 minutes walk to get to VVF (direction)
- Some bus of this lines will not go further than Lège Centre. If you are taking such, please let know local organiser (Manu, +33678158458) and a local colleague will come to pick up you by car there.
TransGironde Line 601 website
TransGironde Line 601 (FR time table)

Bordeaux public transportation, Bus Line 1 (to catch line 601 from the airport)
Travel with rental car
It will take approximately 45 minutes from Merignac airport and about 1h from Saint Jean train station. For the latter case, significant traffic jams might be on the way during peak time (7-9h and 17-19h) mainly on the ring road. Have a safe drive !
Travel for scatterbrained
Contact Manu (+33 6 78 15 84 58) and we will find a solution with a car and local colleagues ! :)